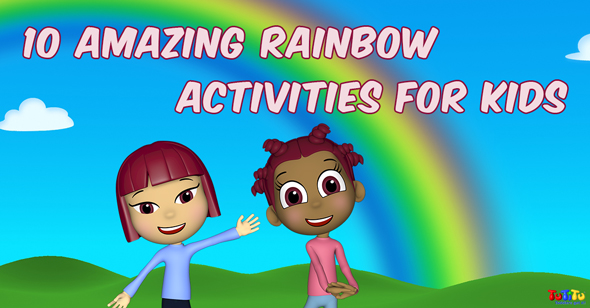 Calling all TuTiTu fans who love rainbows! Today we have a special post for you with a whole colorful range of ideas for fun activities all about rainbows. We have all sorts of original and fun things to do with the kids, collected from some of the finest kids' blogs out there.
We hope you find something you like and whatever you create, feel free to take a picture and post it to our Facebook page for a chance to get featured!
So without further ado – get your colors ready and let's begin!
Giant Rainbow Collage
The good people over at The Imagination Tree have a lovely activity idea that is both artsy and educational. Collect items in different colors to practice color vocabulary and then sort them into a large and vibrant rainbow-shaped collage!
Rainbow Roses
Another fun learning experience comes from Learning 4 Kids – it's a science experiment that will teach your children how colors are absorbed into flowers, plus the result is super cute and will remind you of Alice's Adventures In Wonderland's Queen of Hearts.
Rainbow Tree
Want an outside activity for a sunny day? Babble Dabble Do suggests coloring a tree branch with acrylic paint. It comes out beautifully and it's a great opportunity to get a bit dirty and experiment with color combination.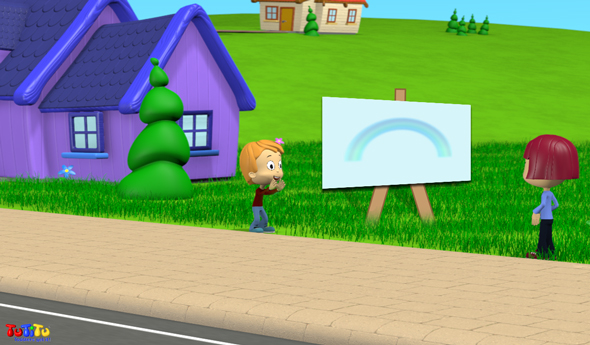 Rainbow Sensory Bin
For the little-er ones, Sow Sprout Play suggests a colorful rainbow-themed sensory bin, which is great for developing both the sense of touch and, once more, for learning color names. You can even sort the items into color-coded boxed for added fun learning.
Rainbow Wind Catchers
Another artsy-decorative option comes to us from A Pretty Cool Life – this creation will be so much fun to make for you and your family, and in the end you get to hang it on the window and see how well it moves.
Rainbow Cookies
Need a break from the action? How about this recipe from Red Ted Art? You can make the cookies together and enjoy a sweet and bright treat in between crafty activities.
Glow in the Dark Ballerina TuTu
This one's also a break from arts and crafts – a quick preparation will create a gorgeous glow-in-the-dark tutu for your little one, says Meri Cherry. You can have lots of fun dancing with it and seeing the colors go!
With your new tutu you can make up fun dances to TuTiTu's songs!
Rainbow Bubbles
And now for some energy spending – Gift of Curiosity shows you how to create colorful rainbow bubbles for a fun time outdoors. Bubble away and feel free to be messy, that's what it's there for!
Rainbow Math Game
For a more learning-oriented game, Housing a Forest suggests practicing counting and color sorting with Fruit Loops and a cute game. It can be fun for the whole family (plus in the end you get to eat Fruit Loops…)
Rainbow Marker Drawing
And finally, one last arts and crafts activity to close our list – De Tout et de Rien shows you how to create a simple tool that will allow you to use multiple markers at the same time and make beautiful and interesting art with them.
Which rainbow activity did you like best?
Show us the results on our Facebook page and don't forget to SHARE the article with other parents!