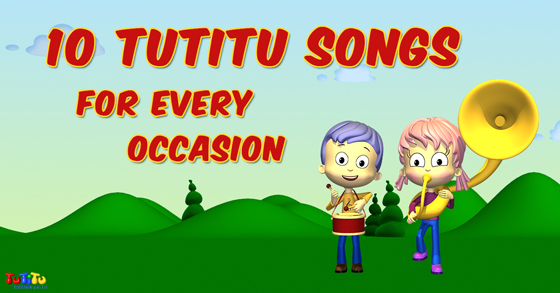 One of our favorite types of videos for kids here at TuTiTu are the songs – we just love creating great animation for our imaginative songs and hearing how much our fans enjoy them. We have songs for kids about everything, from birthdays to beloved toys to chocolate – there's one for every occasion, as they say…
For a trip outside
If you're going on a family outing, especially to a park or anything involving nature, put on some music for the ride and sing along to the jeep song. As a game you can count jeeps on the road – see who can spot the most!
For when you're cooking together
Sing for your supper, or better yet, sing TuTiTu for your supper! The kitchen song, one of our most popular tunes ever, will engage your kids and help them learn the meals of the day too.
For celebrating
No birthday party is complete without TuTiTu's birthday song. Join in song – the whole family and all the friends that came along to the party. Then blow out the candle and make a wish! (if that wish is more TuTiTu songs, don't worry, just keep reading.)
For playing prince and princess
Do your toddlers need help getting in character for your elaborate pretend play sessions? Listen to the palace song together and try to enact all the wonderful things you imagine are in the palace.
For when you're taking a walk to the recycling bin
We at TuTiTu are great supports of recycling and going green! That's why we've created the garbage truck song, which will help teach your little ones about the subject. Use it as an educational tool or just enjoy the lovely tune and lyrics.
For when you're spending some energy together
Run! Jump! Play! When the kids are energetic the best thing to do is go spend that energy in the park and have some sporty fun. To make it even better, sing the playground song together and make up a dance for it.
For having a snack after the playground
So much energy spent – now you get a reward! And the most tasty reward of all, as everyone knows, is ice cream. Sing the ice cream song while you're choosing your flavor. So which is it? Strawberry, chocolate or vanilla?!
For quiet time at home
The teddy bear song is great for when you're chilling out at home. Listen to it while playing with dolls, drawing, solving a puzzle – any other nice and quiet activity that deserves calm music.
For when you're teaching the kids to tell time
Every student knows that music helps learning a ton. If you have a tune to stick your material to, you'll have an easier time remembering and understanding it. Well same goes for telling time: use the clock song to learn about the clock and the numbers on it.
For going to bed and getting ready for sweet dreams
At the end of any day comes bedtime. It's a time to relax, breath in deeply and think about the exciting day you've had. Your children will enjoy singing along to the airplane song before going to sleep and hopefully have an amazing dream about flying high, high in the sky!
There are so many more TuTiTu songs we left out… Which is your favorite?
What activity is it best suited for? Tell us in the comments section!