Mama. Dada. More. Bye-Bye. Babies babble and coo right from the start, but "real" first words will usually take place between 9 and 12 months of age. This is an exciting time for parents and children alike. As philosopher Ludwig Wittgenstein has eloquently put it: "the limits of my language are the limits of my world." When kids begin learning new words, their worlds – and ability to communicate – are constantly getting bigger and better.
Here are 3 ways to have fun with your toddler AND learn new words along the way.
#1: Sing Along Songs!
Singing along to rhymes and songs is an excellent way to enhance language skills. Many of these are available free online, including TuTiTu's growing collection of original sing-along songs. We recommended these songs for young children, who will enjoy the repetitive lyrics, happy music, and colorful animation.
English learners of any age will also have fun singing along to these simple, 3D animated songs. The Tu-Ti-Team has plenty more songs in the pipeline, so stay tuned!
#2: Find Your Words with the "Find" Game!
This is my favorite, since the principle idea of "talk to your children" can be applied to various other activities. Our free online "find" game (AKA "match game" or "memory game") is a good example of how match-games can be used for more than just developing spatial memory skills. Saying the names of the objects on each card while playing ("Oh no, it's a clown! We needed a clock! Maybe next time!") helps your child effortlessly learn new vocabulary words.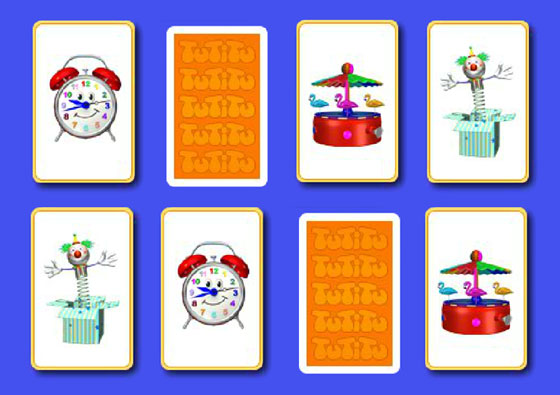 #3: Play the "Action Word" Game
Think of this game as a sort of "Simon says" for younger children, without the "Simon" part. Responding to instructions and preforming varied physical movements is usually fun and challenging for toddlers. This is a great way to learn new action words and verbs, not to mention- practice following instructions.
This is one variation you can try: After watching the "playground song", practice the words "skip", "swing", "jump" and "play". When I did this with my nieces I used swinging arms for "swing" and clapping hands with each other for "play", but half the fun is in making the movements, so go ahead and be creative!
Start by giving the instructions in a fixed order the toddlers will have no trouble following ("skip, swing, jump, play"), and then mix it up ("swing, play, jump, play") to make it more interesting. For advanced players: pick up the pace and give instructions faster and faster, and only stop when giggles erupt.
Plenty of interactions with caregivers and a good amount of trial and error is usually all that's needed for children to acquire language skills. Remember- every child has his or her own learning style and pace. Have fun watching and playing!
What was your child's first word? Share in the comments!