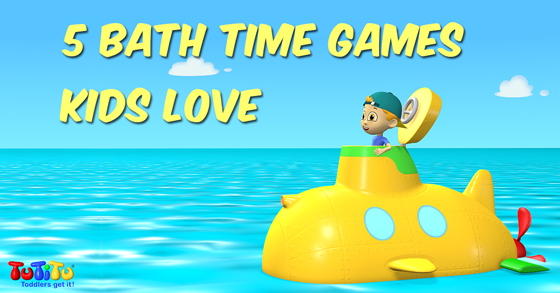 Are your kids giving you a hard time when it comes to taking baths? Many parents find that this one activity is particularly difficult. Well, if that's the case, perhaps making it more fun is a good solution – here are 5 bath time games that your toddlers will love and might make bath time easier for everyone involved!
#1 Sing along
One surefire way to make things fun is to sing a song! Music is always a great addition and children's songs are even more affective. Check out TuTiTu's songs for kids – the boat song and the submarine song might be just the right thing for your bath time.
#2 Beach toys
Kids love these – the bucket, the can, the shovel… It's true they 'fit' better with sand, but in fact they can be a lot of fun to play with in the bath too. Fill the bucket together using the shovel, add some soap too, and mix it all together to see what comes out!
#3 Bathtub barbershop
Here's an option for the creative side – use the shampoo to sculpt your little one's hair in different funny shapes. Bring a small portable mirror so they can see themselves too!
#4 Colorful bath time
This one requires just a little bit of preparation – make ice cubes with a few drops of edible food coloring. In the tub, throw them in one after each other or a few at a time and watch how they gradually melt and the color spreads in the tub.
#5 Racing track
If you have wind-up bath toys, you can line them up and start off together to see who goes faster and who wins the race. You can draw a line at the other end using bath salts: the first toy to touch it wins!
Which are your favorite ways to make bath time fun?
Tell us in the comments and SHARE the article with other parents!