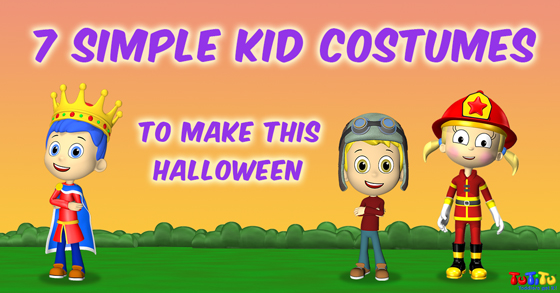 Spooky Halloween, everyone! This extra special holiday is coming up real soon and we know some parents like to prepare in advance and have everything ready ages before due date. Well this article isn't for them then – it's for all you parents who didn't have time to make anything and need a quick project for later this week.
Just for you, we've found some of the coolest (but also simplest) DIY Halloween costumes for kids to DIY – here are the absolutely best seven of them. Enjoy!
#1 Owl
This last minute owl costume from Alpha Mom looks so amazing you won't believe how simple it is to make. All you need are some old T-shirts to cut and either sew or glue together and a couple of free hours. Your kid will be a HOOT!
#2 Peacock
Another great animal inspiration in this adorable peacock get-up for babies and toddlers by Creatively Christy. It takes a bit more specific shopping perhaps, but preparation is very easy.
#3 Firefighter
What kid doesn't want to be a firefighter at some point, right?! Happily, Reader's Digest has an idea on how to make that into a (short) reality. Great looking costume, not too much work, plus everyone gets to be a hero. Win-win.
#4 Mummy
This costume is so easy that even your kids can take part in the preparation. Red Ted Art will show you exactly what materials you need and how to put them together, and you'll have a great time making it and just as fun a time wearing it!
#5 Jane Fonda
Here's a totally adorable baby costume from Coolest Homemade Costumes, the great bible of Halloween DIYs. The great thing about it is that it's not only minutes to make, it's also super comfy to wear and walk around with. And that's a great combination.
#6 Cook
A last-minute baby costume if there ever was: a white tee/onesie, red leggings and a sharpie are pretty much all you need to create Rookie Moms idea. Grab some (safe!) utensils from the kitchen to complete the look and voila. Or, bon appétit, actually.
#7 Teenage Mutant Ninja Turtle
Let's end this list with a classic: here's a costume idea you can enjoy in nostalgia too. A Night Owl has all the instructions for you, pics and all. It's really fun and sweet and might make you want to make one for yourself too…
Which was your favorite? Any other cool tips on DIY costumes?
Share them with us in the comments and don't forget to SHARE the article on Facebook!