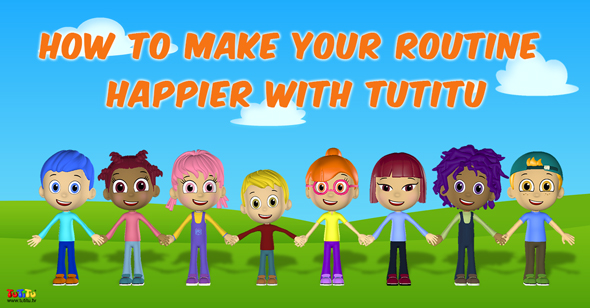 Do you and your toddler love TuTiTu? Do you want to try and create smoother routines for your family for throughout the day? Well why not combine the two?! You can use TuTiTu's 3D animation videos for kids and connect them to specific phases and moments in your family's daily life, and have fun while going about your day! Here are some suggestions from us.
Morning: Time to tell time!
Mornings can get so busy! You have to get ready, get dressed and have breakfast, and manage to do all of that and still get to kindergarten without being late. Understanding the meaning of time passing and learning what the hour is can really help with that. You can sing along to TuTiTu's Clock Song while getting ready:
Home for lunch: What's cooking?
Another famously routine part of a preschooler's day is lunch time. And what better time than that to learn the different meals of the day and familiarize your son or daughter with the kitchen. For lunchtime, sing along to TuTiTu's Kitchen Song. You can add your own line about what is being served that day!
Afternoon: Out and about!
Having enjoyed a comforting nap, now it's time to spend some energy outside. On your way out of the house, why not take the trash out and more importantly – the recycling bin? Teach your children about the importance of 'being green' and get to know your neighborhood at the same time with our Garbage Truck Recycling Song:
Playing outside: A skip and a jump!
While your little one is playing around and spending the energy they've built up during naptime, you can sit back and watch – but also sing along together! The Playground Song is not only fun, but also a great way to practice following physical orders: can your child swing, jump and play?
Healthy snacktime: Tutti fruity!
A good way to relax while having your snack is watching a video in the background – and the best way is to watch a video about fruits and games! TuTiTu's Fruit Puzzle will keep your toddler captivated and just waiting to see what comes up in the end (careful that you don't spoil it for them ;))
Shower time: Catching up with old friends!
The cozy warm water are as good an excuse as any for some self-reflection. Ask your kid who they miss and haven't seen in a while – maybe the grandparents? Or friends from kindergarten (well the morning was hours ago…) You can pretend to call them up and think about what you both would want to say to them. And better still, you can do it with TuTiTu's Mobile Phone video:
Bedtime: Sweet and fancy dreams!
Say goodbye to the exciting day you've been having and hello to wonderful dreams about queens, kings and palaces… In your dreams you can be whatever you want to be, so why not royalty really?! Get some ideas from our Palace Song and may it be a lovely night indeed!
How do you interact with TuTiTu during the day, parents? Have any special routines with the songs and videos?
Tell us in the comments and SHARE the article with your friends!