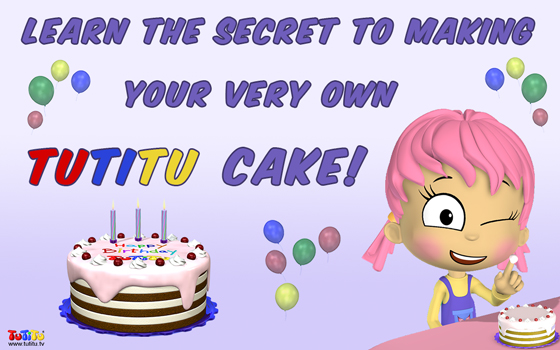 This week's post is a very special one for us because it involves two of our favorite things in the world: TuTiTu and… cake! As it turns out, we here at TuTiTu are not the only ones to feel like this.
Our fan Georgina Georgiou Erotokritou made a very special TuTiTu cake for her son's first birthday, and she kindly agreed to send us the recipe so that we can share it with all you awesome parents. Thanks, Georgina!
How did she make the cake? She explains: "The cake is made out of biscuits and chocolate and I shaped it and let is freeze for one day… Then I simply bought sugardough and applied it."
Here is the full list of ingredients for the cake:
5 packs of morning coffee biscuit
500gr unsalted butter
1 cup of milk with a little cognac
2 vanilla packs (small)
1/2 cup of water
10 spoons of sugar
6 spoons of dark chocolate
6 spoons chocolate milk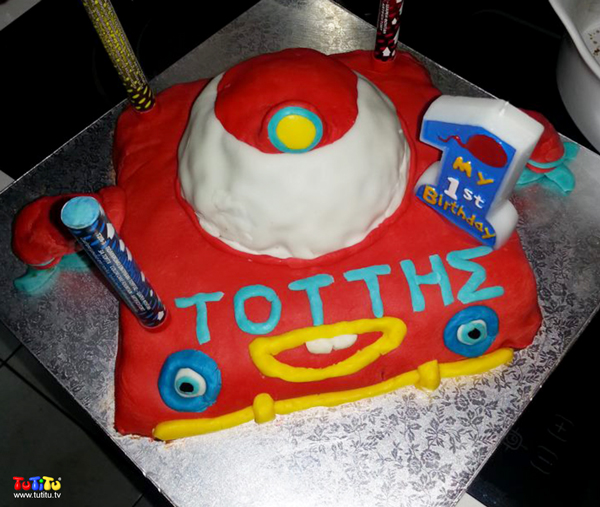 If you prefer a simpler cake without having to mess about with biscuits, here are the ingredients for a basic chocolate cake we love from the Food Network website (see the full recipe explained right here):
Cooking spray
1 cup unsweetened cocoa powder (natural or Dutch process)
2 1/2 cups all-purpose flour
2 cups sugar
1 1/2 teaspoons baking powder
1 teaspoon baking soda
1 teaspoon salt
3 large eggs, at room temperature
3/4 cup vegetable oil
1/2 cup sour cream
2 teaspoons vanilla extract
For a special TuTiTu-shaped cake what you need to do is bake two parts: a regular square one and another hill-shaped one (or else cut the hill-shape out of another small square one.) Cut a small strip from the square cake to use later. Put the hill on top of the base to create TuTiTu's unique figure and use the extra strip, cut in halves, to create the arms.
Next cover the whole body of the cake in red sugardough, with white dough for the window, blue and yellow dough for the eyes and mouth and green sugardough for TuTiTu's propellers.
A special TuTiTu cake is a great way to make your toddler happy on their birthday. He or she are sure to fall in love with it and appreciate the effort you put in! You can make a whole TuTiTu-themed birthday by printing out one of our special birthday cards and of course, singing TuTiTu's own Happy Birthday Song! If you want some more birthday inspiration be sure to check out this article too.
Did you make your own TuTiTu birthday cake? Send us the pic for a chance to feature on our Facebook page!
Any other tips for a very special TuTiTu birthday? Share them in the comments section!