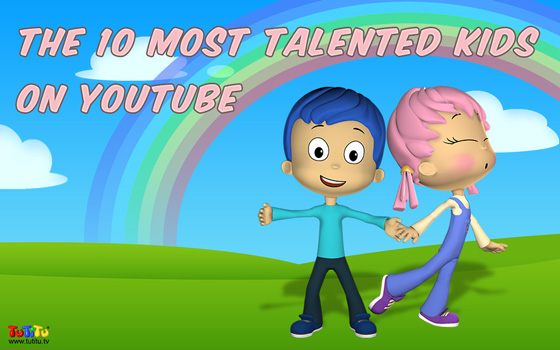 All parents think their children are the most amazing, talented kids alive. They can talk so well, draw the most beautiful doodles you've ever seen and even their naptime poses are absolutely exquisite. Well the kids on this list can do all of that… and then some.
Over the years, YouTube has collected some really astonishing young talents. Some of these kids are already several years older than they are in the video – but that doesn't seem to make their videos any less impressive! They sing, they dance, the dribble and twist. Without further ado, here are 10 of YouTube's most mind blowing child talents!
Piano Man (Boy)
This 7 year old piano prodigy, Shuan Hern Lee, played "Flight of the Bumblebee" on Australia's Got Talent. Shuan impressed the judges so much that they stepped up to the stage to watch his hands in action.
The Banjo Boys
Still in the realm of instrumental kids but over to a whole other genre – how about this 8 year old little guy and his bluegrass band? Johnny Mizzone and his group will definitely leave you speechless (and maybe a little exhausted too.)
The 11 Year Old Beyonce
Sophie Grace, 11, sings "Listen" like most adults can't (excluding Beyonce, obviously.) She's got presence, she's got charisma, and we're sure we haven't heard the last of her yet.
Oh, Oh, Opera!
In the mood for something more classical? Well how about listening to 9 year old Amira Willighagen sing some opera on Holland's Got Talent? You wouldn't believe the voice that comes out of that body. Neither did the judges, by the way.
All About That Dance
You've probably heard Meghan Trainor's song "All About that Bass" already – but you've never seem it being danced to like this. 11 year old Taylor Hatala gives hip hop experts a run for their money.
Moving it
Speaking of dance – how about this adorable boy and girl duo, giving their all in this excellent ballroom dancing routine? This rock'n'roll jive will get you up and dancing in no time (though probably not as well as these two.)
Stretch Away
Are you tired of all the high level skills and prefer something a bit more chill and simple to preform? Well too bad because here's Victoria Jacoby, the most flexible young lady you've ever seen, being nonchalantly awesome on national television.
Shooting Some Hoops
Some more physical talent now: here's an unbelievably skilled 11 year old basketball player who practices his dribbles and shots for hours every day. Sit back, relax and prepare to be blown away.
Ha-Yah!
More into martial arts than basketball? Then this might be the video for you. This 8 year old has some serious moves, no doubt.
No Strings Attached
And now a bit more music to end our list – watch this young group play the guitar in full synchronicity. Oh and as for the video's title: we beg to differ. This isn't creepy, it's awesome!
Bonus round: Will we be seeing your kids performing on YouTube soon?
Professional or not, singing and dancing together is always fun. So grab your toddler and put on one of TuTiTu's animal songs for kids! If you do end up filming your version of the dance, send it to us and you'll get featured on our Facebook page!
Don't you just LOVE these super talented kids?
SHARE this article on Facebook so everyone else can enjoy them too!